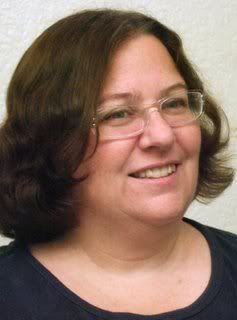 This is me... back when I first started blogging. I was 369 lbs, then rose to 371.4 before starting to lose weight again.
It was 2007, and I'd just learned that I didn't have cancer, and that the tumors and cysts throughout my body were benign. It was a good year, and gave me a new lease on life. Maybe that's why, after decades of being morbidly obese, I made the change to a healthier lifestyle and finally started taking off the weight.
It hasn't been easy. It's involved a lot of diet, exercise, and medical intervention, and I know that this isn't a short term action, but a permanent lifestyle change... that is to say that it MUST be a lifestyle change if I'm to stay as healthy as I am today.
My kids are a little surprised at the whole thing. There are times when my son doesn't even recognize me, and there are times I catch my kids staring.
They only remember me, all their lives, as this: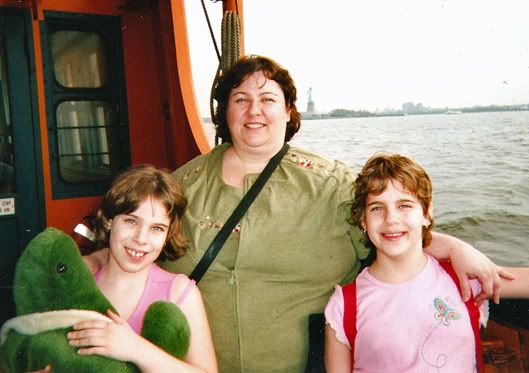 me with my youngest two daughters (Tay and Cay), April 19, 2004
Back then, between the lupus and the weight, I could barely walk. I used one or two canes, and I had to crawl up the stairs.
And in spring 2010, I did my first 5K.
OK... I WALKED my first 5K, in 2010, but it was just a beginning.
These days I'm more fit and active than I ever imagined possible. I haven't posted any after photos, because there is no "after", only "during". You can see updated photos and the "before" and current "during" photos in the sidebar.
The first year I took weight off with diet and exercise, but when I wasn't making the progress I wanted to, turned to bariatric surgery. Now I know there are people out there who will say I "cheated", like dieting is some sort of game. It isn't. It's not cheating to get healthy. It's smart, and it's given me back my life.
Bariatric surgery also isn't the easy way out. The year after surgery was one of the most difficult of my life, while I struggled with balancing my diet to my physical needs and my workouts. Bariatric surgery also isn't the end of the process, it's the beginning, and only a tool.
I've found that losing weight has improved my life in so many ways. Sure, some of the issues you have before losing weight are still with you afterward. You don't become socially adept, free of stress or painful memories, or better at coping just because you've shed a few pounds. You do, however, have less social stigma attached to your appearance and better health to deal with any curve balls life throws at you. Once the weight is off and the issues associated with just the weight portion are gone, then it's time to work on the rest... and I've found it a bit easier as well.
I'm still on my journey, because while it's all about losing weight and improving my health, the health improvement part of it all is an on-going and never ending issue. I can always grow stronger, and challenge my body in new ways. Where I once had a goal of simply losing 200 lbs by my 50th birthday, I've found new fabulous in myself as I age beyond that half decade mark... a new fabulous I need to continue to nurture and celebrate.
~Kate