I went out yesterday to get new fry pans. I really get sick of changing them out, but since I have eggs every day, and use them to brown meat frequently, they do seem to wear out (the interior finishes) fairly quickly no matter how much money I spend on the darn things. Anyway, this time I got a simple saute pan without the non-stick finish... and for my morning eggs? I tried something different.
Now the idea here for me was to pay less than $4 rather than get a new little no-stick fry pan for $9.99 or more. Cay was a skeptic, and I must admit, I was rather skeptical at first, but decided it was worth the risk for two reasons:
1- it was cheap... and I wouldn't begrudge it if it ended up in our charity donation bin.
2- oil free cooking. When I thought about the idea of "no oil" I just thought "think of the fat and calories saved over a week of egg breakfasts.
and once I got it home, I found a third reason: portion control.
I've had to start measuring my eggs after noticing my morning omelets had gotten larger and larger. With this pan, it's just pour in the egg whites, and you're not going to be able to put in more than you "should" for a serving size.
The only issue? I can't actually make omelets with it.
So, next on my list?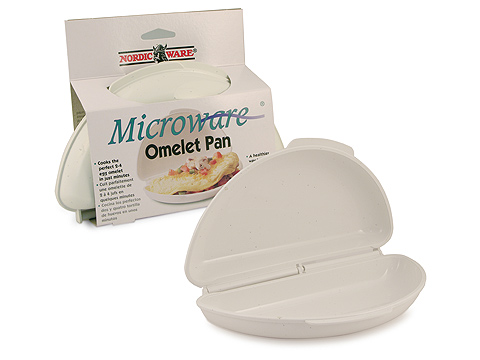 I've finally found a reason to use my microwave.